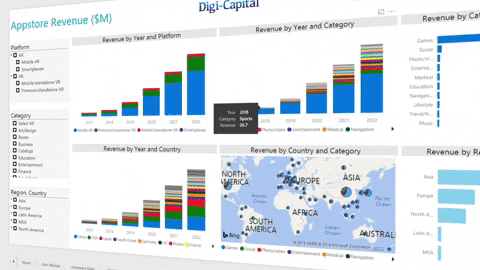 [Note: Survey participation has now closed. If you would like to find out more or participate in the next survey, please email info [at] digi-capital.com]
Digi-Capital is pleased to announce our official partnership with AWE, the #1 global XR (AR/VR/MR) conference and community with 250,000 members.
To kick-off the partnership, together we are doing a global XR industry survey which you can take part in here. By getting involved, you'll get results from the biggest global XR survey ever done. For US/Canada residents only, you could also win a one-year license to Digi-Capital's AR/VR Analytics Platform or a round-the-world set of four AWE VIP event tickets (Silicon Valley, Europe, Asia and Tel Aviv).
Here is what this partnership means to you:
Data/analytics/reports: Together with AWE, we're giving away four regional reports at each of AWE's main events in USA, Europe, China and Israel. These will draw on the survey you can take part in (and help our industry, which doesn't take long) and Digi-Capital's Analytics Platform.
Trusted thought leadership: Digi-Capital founder and managing director, Tim Merel, will headline AWE events globally, providing State of the Union keynotes and sharing live, global and regional XR analytics starting next month at AWE EU 2018.
Access: AWE attendees will have access to select Digi-Capital analytics and reports to drive XR innovation, spur corporate and VC investment, and help startups go to market.
Again we would love you to share your voice in our global XR survey, so please get involved!